Don't let allergies ruin your ability to enjoy the glorious spring weather!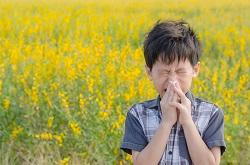 Springtime can be absolutely lovely. It's a time to say goodbye to the cold winter weather for good, revamp your closet and open the windows. That is, if you don't suffer from spring allergies. If you are fighting with a runny nose, congestion and watery eyes, then our Frederick and Hagerstown, MD, otolaryngologist, Dr. Kirby Scott, has ways to tackle your allergies this spring.
Know When to Go Outside
While we won't say that you have to stay cooped up all spring (because what's the fun in that?), you may want to avoid going outdoors on particularly blustery days or very early in the morning, particularly if you are allergic to pollen. Wearing sunglasses may also be able to protect your eyes from the nasty effects of pollen. Once you come in from your outdoor excursion, whether it's running errands or spending time in your garden, make sure to shower immediately and put your clothes in the laundry to prevent the spread of pollen in your home.
Use Medication
There is some trial and error to figuring out what kinds of medications to take when allergies flare up. The allergy medications that work best for you will really depend on your symptoms. Have a runny nose? Then opt for an over-the-counter antihistamine. Suffer from some pretty serious allergies? Then it's time to use a nasal spray. If over-the-counter medications aren't cutting it, then it's time to talk to our Frederick and Hagerstown ENT doctor about whether prescription medications or even allergy shots are better suited for your needs.
Turn on the Air Conditioning
While a beautiful spring day may have you desperately wanting to open the windows and enjoy the fresh air, what is blowing around in the air may just cause watery, itchy eyes and other issues. Therefore, it's best to play it safe and just turn on the air conditioner. We know it won't be as refreshing as the great outdoors, but your allergies will certainly thank you.
Know How to Clean Your Home
How you clean your home can also affect your allergies. When it comes to shopping around for a vacuum, make sure that you always use one with a HEPA filter. This will help trap a lot of that allergy-causing crud so that you don't just breathe it in. Make sure to vacuum all furniture, floors, rugs and other surfaces at least once a week.
If you have questions about managing your allergy symptoms then turn to the expert at Central ENT Consultants. Don't let your allergies get in the way of enjoying the beautiful outdoors.